Doris Hottel

Administrative Assistant

in Fredericksburg, VA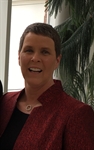 Just a little bit about myself! I retired from Stafford County Government after 32 years of service!!!! I worked right beside my TWIN for all of those 32 years. I worked in Taxes and enjoyed it but 32 years was enough! My Husband does maintenance work for Tina Hunt's NextHome Properties and he found out that she was in need of a part time office manager. Then came me!!! I have loved working with Tina and I am learning a lot! I am very grateful that she was willing to give me a chance and we have become great friends.